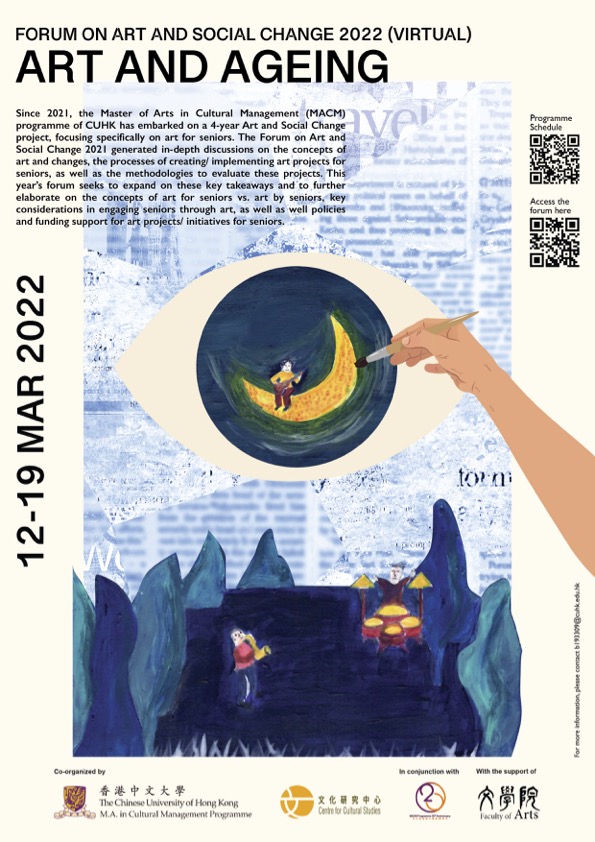 藝術作為社會改革論壇
二零二二年三月十二至十九日 | 網上論壇
創意從來不受年齡規束,藝術的大門為所有人而敞,為不同年紀的人建立溝通的平台 。中大文化管理文學碩士 (MACM) 課程開展了為期 4 年的藝術與社會變革項目,專注於長者藝術。
今年的論壇旨在延續去年的討論,進一步闡述長者藝術的概念;並思考如何以藝術吸引長者以及支持長者藝術項目。
更多資訊將會發佈在我們的Facebook和Youtube,大家可以持續追蹤相關消息 !
𝐅𝐨𝐫𝐮𝐦 𝐨𝐧 𝐀𝐫𝐭 𝐚𝐧𝐝 𝐒𝐨𝐜𝐢𝐚𝐥 𝐂𝐡𝐚𝐧𝐠𝐞 (𝟐𝟎𝟐𝟐): 𝐀𝐫𝐭 𝐚𝐧𝐝 𝐀𝐠𝐞𝐢𝐧𝐠
12 – 19 March 2022 | Virtual
Age is never the boundary of creativity. Art is an open door for everyone and it can be the common language of the young and the senior .
Since 2021, the Master of Arts in Cultural Management (MACM) programme of CUHK has embarked on a 4-year Art and Social Change project, focusing specifically on art for seniors.
The Forum on Art and Social Change 2021 generated in-depth discussions on the concepts of art and changes, the processes of creating/ implementing art projects for seniors, as well as the methodologies to evaluate these projects.
This year's forum seeks to expand on these key takeaways and to further elaborate on the concepts of art for seniors vs. art by seniors, key considerations in engaging seniors through art, as well as well policies and funding support for art projects/ initiatives for seniors.
Please follow our Facebook and Youtube for the latest information. Stay tuned!
Website: https://communityarts.crs.cuhk.edu.hk
Youtube: https://www.youtube.com/channel/UC9wYvXs1jUBugzkYCbFP2EA
__________
Follow us on
Facebook: Community Arts at CUHK (@ FCACUHK)
Enquiry: cuccs@cuhk.edu.hk / b193309@cuhk.edu.hk