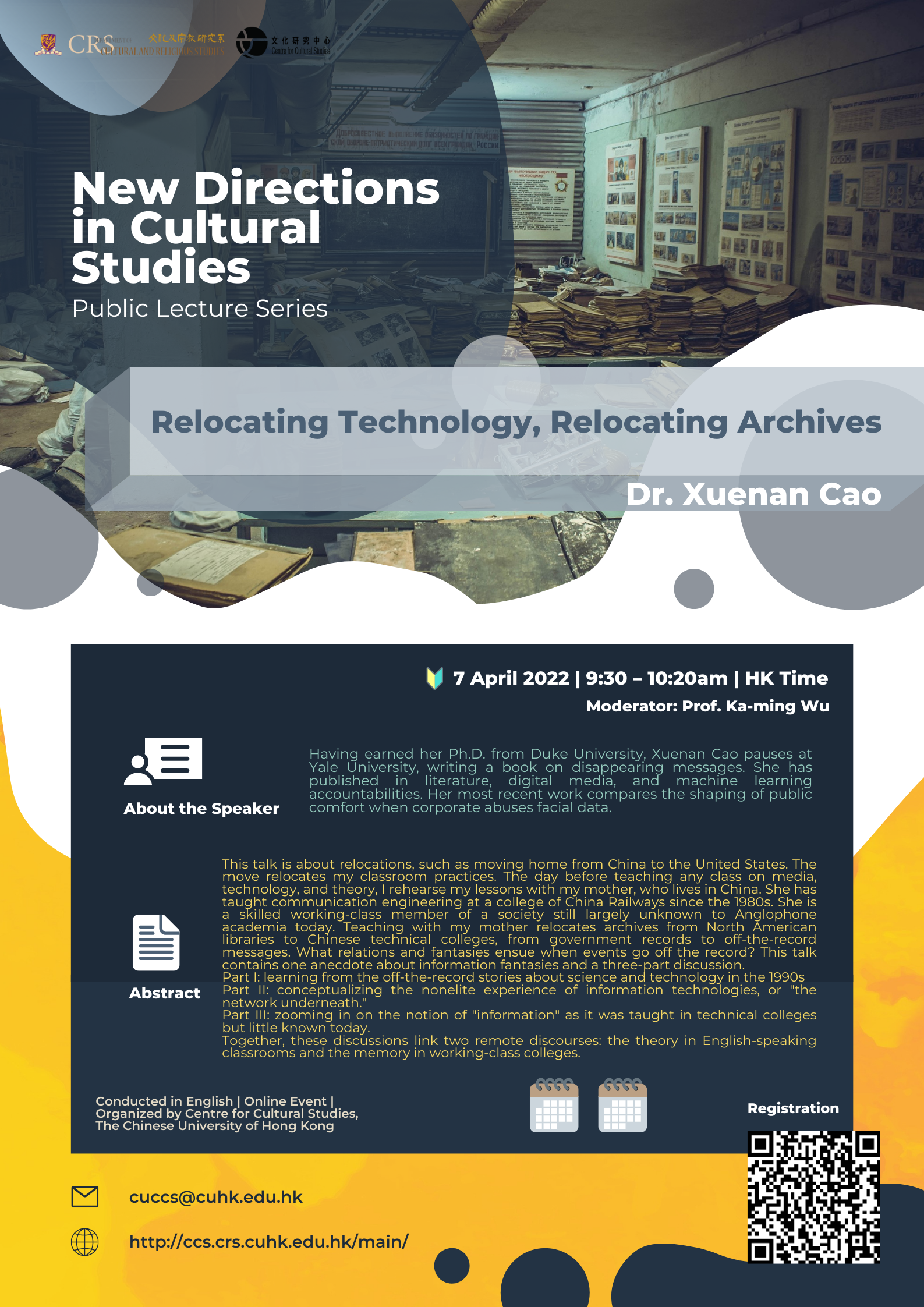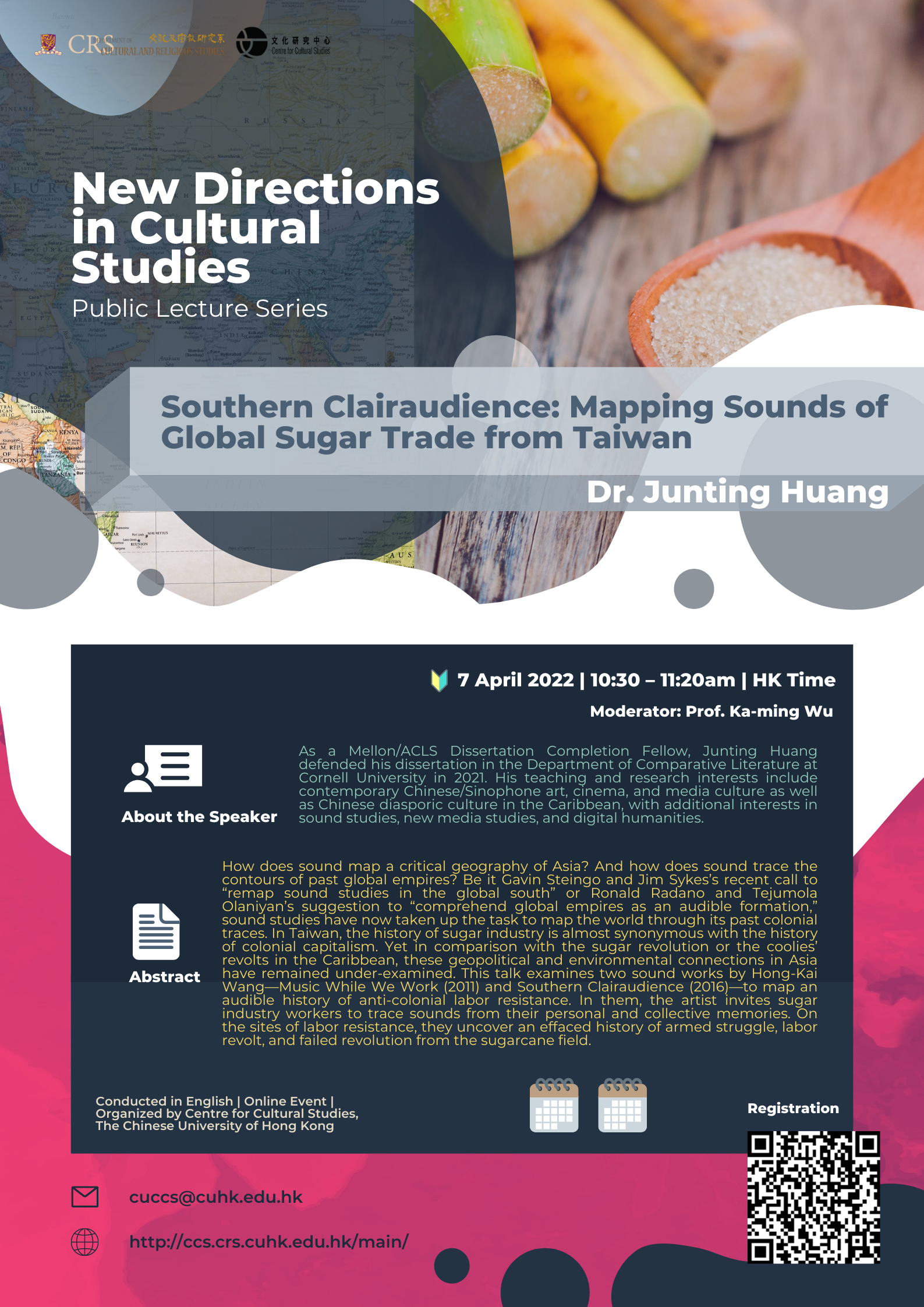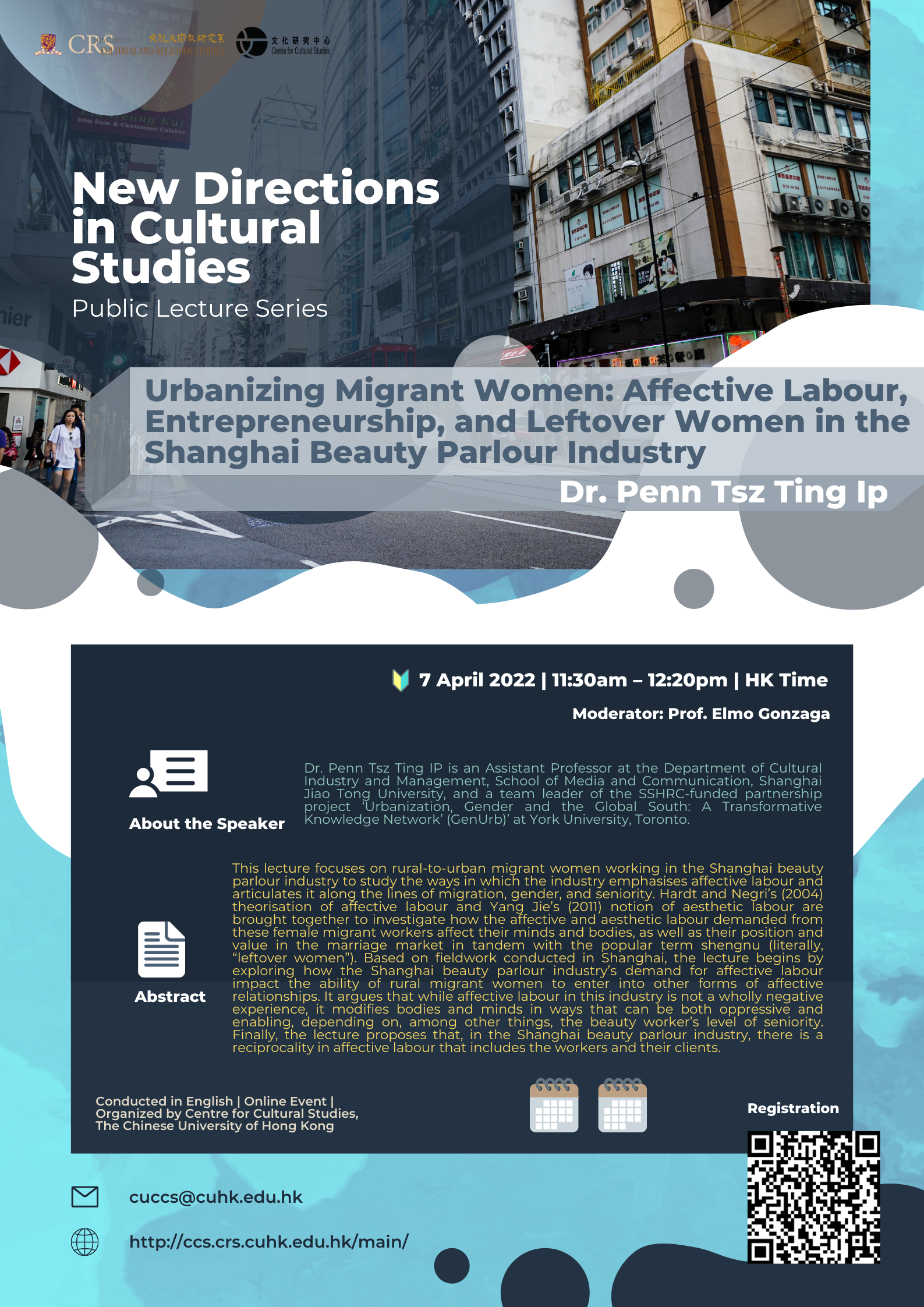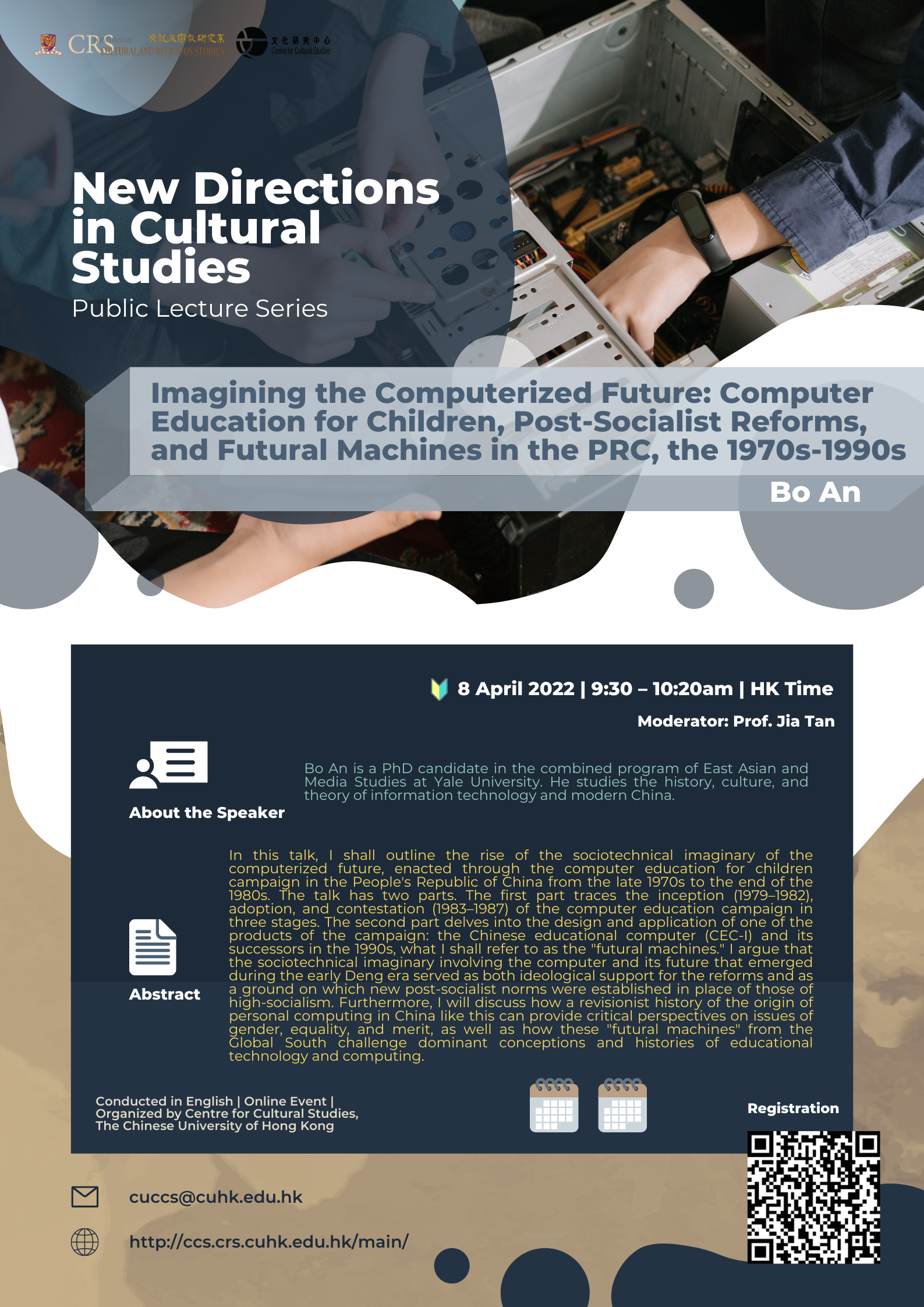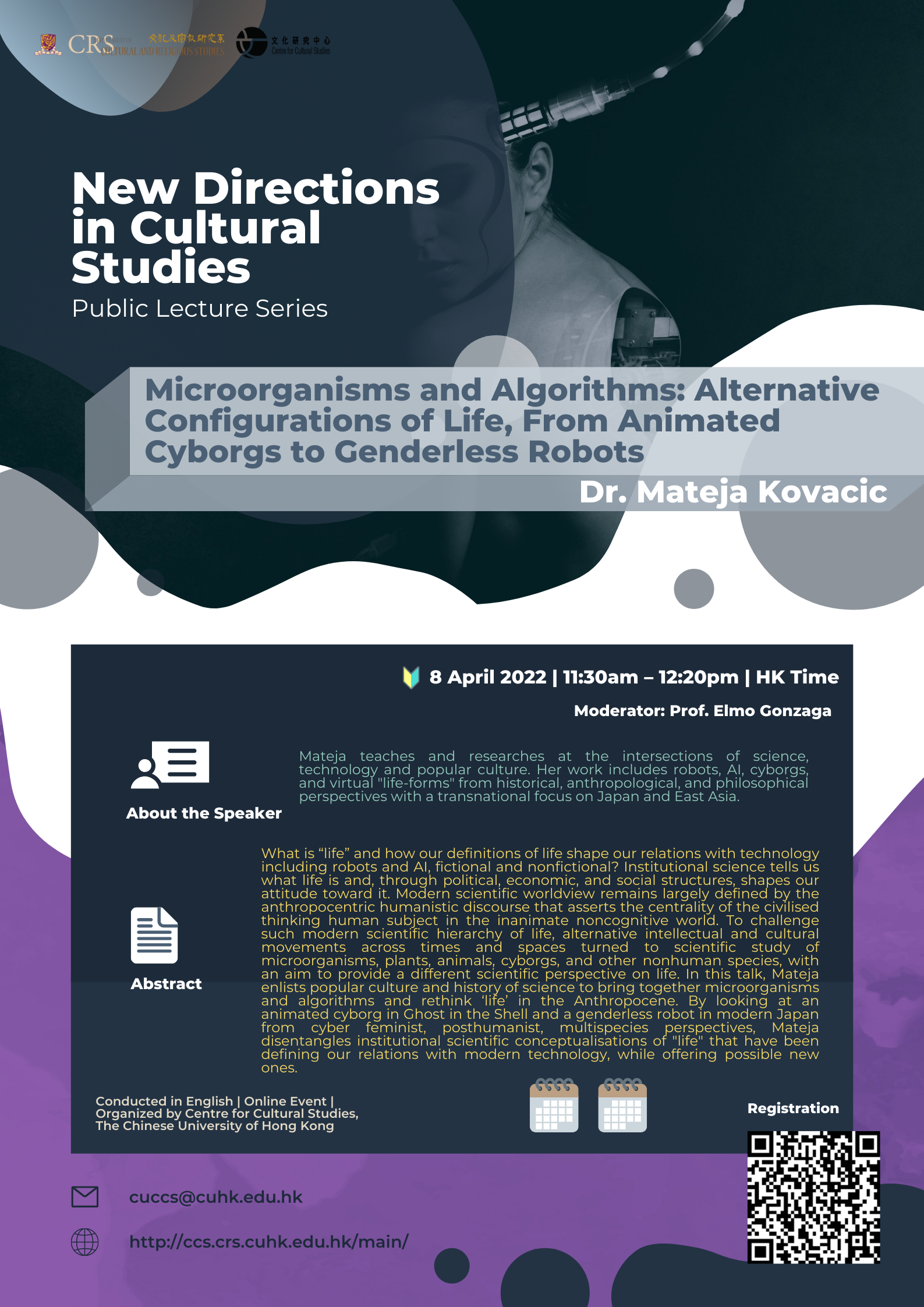 New Directions in Cultural Studies: Public Lecture Series
Day 1: 7 April 2022, Thursday, Hong Kong Time
9:30 – 10:20 am | Relocating Technology, Relocating Archives | Dr. Xuenan Cao
10:30 – 11:20am | Southern Clairaudience: Mapping Sounds of Global Sugar Trade from Taiwan | Dr. Junting Huang
Moderator:
Prof. Ka-ming Wu
11:30am – 12:20pm | Urbanizing Migrant Women: Affective Labour, Entrepreneurship, and Leftover Women in the Shanghai Beauty Parlour Industry | Dr. Penn Tsz Ting Ip
Moderator:
Prof. Elmo Gonzaga
Day 2: 8 April 2022, Friday, Hong Kong Time
9:30 – 10:20am | Imagining the Computerized Future: Computer Education for Children, Post-Socialist Reforms, and Futural Machines in the PRC, the 1970s-1990s | Bo An
10:30 – 11:20am | Birth Control: A Technology of Capture and Calculation? | Dr. Shoan Yin Cheung
Moderator:
Prof. Jia Tan
11:30am-12:20pm | Microorganisms and Algorithms: Alternative Configurations of Life, From Animated Cyborgs to Genderless Robots | Dr. Mateja Kovacic
Moderator:
Prof. Elmo Gonzaga
—–
Venue: ZOOM (Online meeting links will be sent upon registration)
Registration:
https://cloud.itsc.cuhk.edu.hk/webform/view.php?id=13647991
—-
Speakers' bios and abstracts:
https://docs.google.com/document/d/1L8SPDfFK_O-R32BZSvN0AfrUNbN3zTYMN-Ee9YR5zxI/edit?usp=sharing
Conducted in English. All are welcome.
Website: www.cuhk.edu.hk/crs/ccs
Enquiry: cuccs@cuhk.edu.hk
——
This event is organized by the Centre for Cultural Studies, Department of Cultural and Religious Studies, CUHK