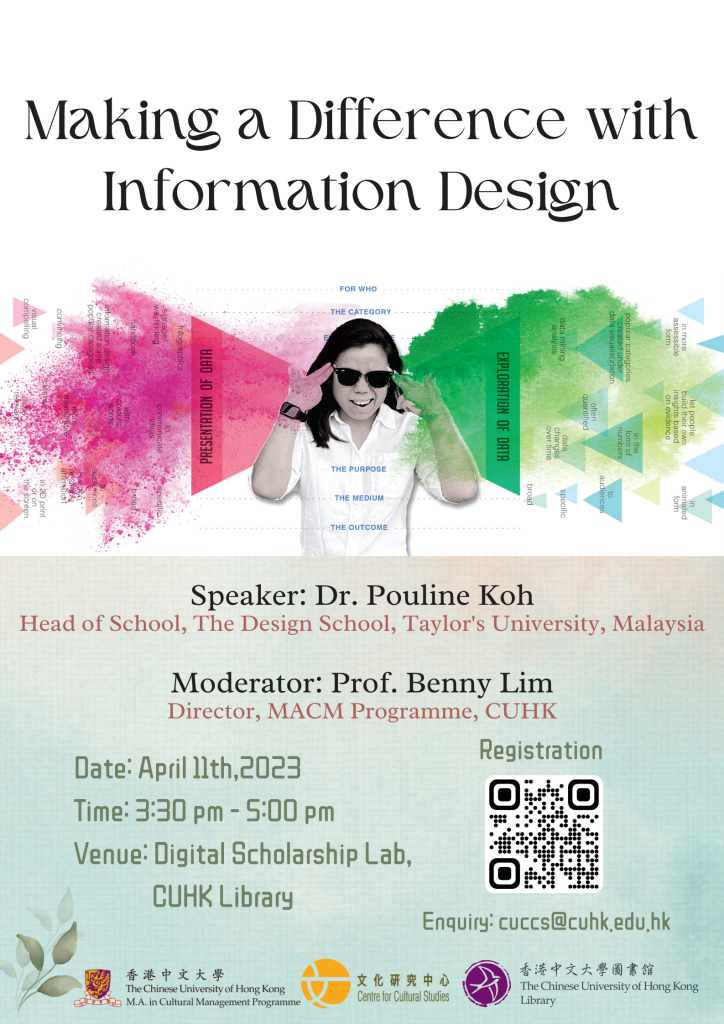 Speaker: Dr. Pouline Koh (Head of School, The Design School, Taylor's University, Malaysia)
Moderator: Prof. Benny Lim (CUHK)
Date: April 11th,2023
Time: 3.30 pm – 5.00 pm
Venue: Digital Scholarship Lab, CUHK Library
Abstract:
When we're capable to visually communicate the impact of social issues, we give voice to the voiceless and drive progress. Using Information Design as a tool to empower communities to be informed and take action on pressing social issues, this talk aims to provide a guide for designers and non-designers alike on how information design can be used to raise awareness, inspire action, and drive change in communities.
Biography:
Dr.Pouline Koh is a design enthusiast and a passionate educator. Her works often focus on using design learning and practices as a mechanism for social good. Throughout her design journey, she is actively involved in design development through working across disciplines on areas related to Information design in digital health & well-being, User experience design, Digital design in communication & culture, and providing design software training to various levels of learners. Aside her long term interest in design practices, she is currently leading The Design School at Taylor's University, ranked the top 3 in Malaysia where she brings about the integration of design and tech specialisms into the school that produces multiple award winning design natives who are changemakers in the growing creative economy.
_____
Registration: https://cloud.itsc.cuhk.edu.hk/webform/view.php?id=13664383
This event is organized by MA in Cultural Management Programme, CUHK and the Centre for Cultural Studies, Department of Cultural and Religious Studies, CUHK .
Venue sponsor: CUHK Library
Enquiry: cuccs@cuhk.edu.hk