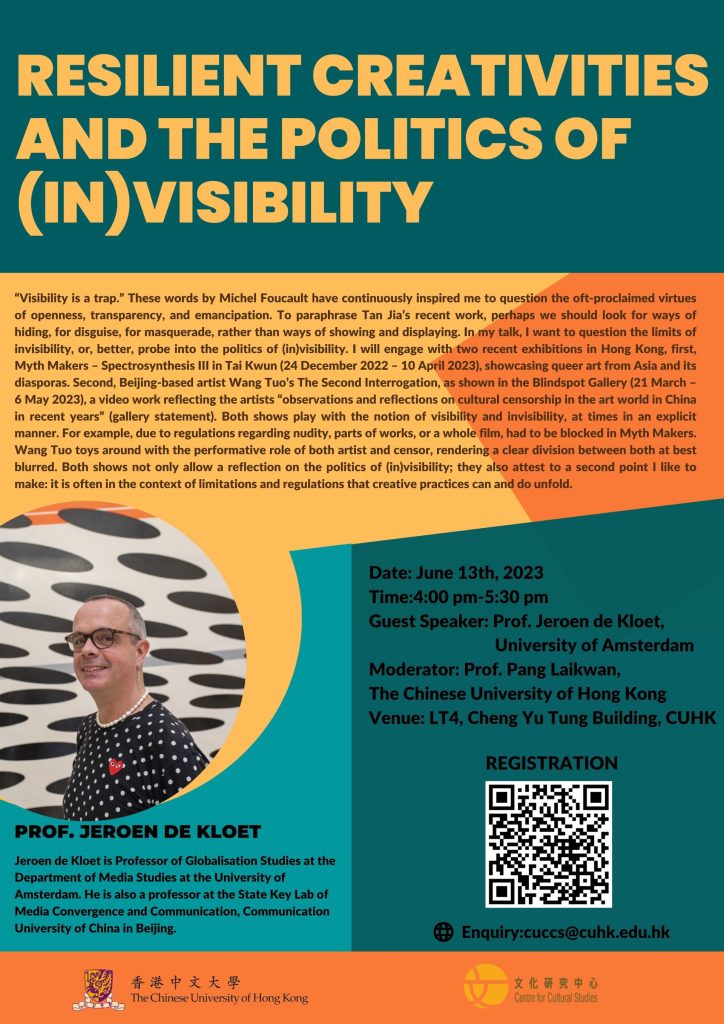 Resilient Creativities and the Politics of (In)Visibility
Date: June 13th, 2023
Time:4:00pm-5:30 pm
Venue: LT4, Cheng Yu Tung Building, CUHK
Guest Speaker: Prof. Jeroen de Kloet, University of Amsterdam
Moderator: Prof. Pang Laikwan, The Chinese University of Hong Kong
Abstract
"Visibility is a trap." These words by Michel Foucault have continuously inspired me to question the oft-proclaimed virtues of openness, transparency, and emancipation. To paraphrase Tan Jia's recent work, perhaps we should look for ways of hiding, for disguise, for masquerade, rather than ways of showing and displaying. In my talk, I want to question the limits of invisibility, or, better, probe into the politics of (in)visibility. I will engage with two recent exhibitions in Hong Kong, first, Myth Makers – Spectrosynthesis III in Tai Kwun (24 December 2022 – 10 April 2023), showcasing queer art from Asia and its diasporas. Second, Beijing-based artist Wang Tuo's The Second Interrogation, as shown in the Blindspot Gallery (21 March – 6 May 2023), a video work reflecting the artists "observations and reflections on cultural censorship in the art world in China in recent years" (gallery statement). Both shows play with the notion of visibility and invisibility, at times in an explicit manner. For example, due to regulations regarding nudity, parts of works, or a whole film, had to be blocked in Myth Makers. Wang Tuo toys around with the performative role of both artist and censor, rendering a clear division between both at best blurred. Both shows not only allow a reflection on the politics of (in)visibility; they also attest to a second point I like to make: it is often in the context of limitations and regulations that creative practices can and do unfold.
Biography
Jeroen de Kloet is Professor of Globalisation Studies at the Department of Media Studies at the University of Amsterdam. He is also a professor at the State Key Lab of Media Convergence and Communication, Communication University of China in Beijing. Publications include a book with Anthony Fung Youth Cultures in China (Polity 2017), and the edited volumes Boredom, Shanzhai, and Digitization in the Time of Creative China (with Yiu Fai Chow and Lena Scheen, Amsterdam UP 2019) and Trans-Asia as Method: Theory and Practices (with Yiu Fai Chow and Gladys Pak Lei Chong, Rowman and Littlefield, 2019). Forthcoming, with Yiu Fai Chow and Leonie Schmidt, is 'It's My Party' – Tat Ming Pair and the Postcolonial Politics of Popular Music in Hong Kong (Palgrave). See also http://jeroendekloet.nl
Registration link: https://cloud.itsc.cuhk.edu.hk/webform/view.php?id=13667668
Conducted in English. All are welcome.
Website: www.cuhk.edu.hk/crs/ccs
Enquiry: cuccs@cuhk.edu.hk
This event is organized by the Centre for Cultural Studies, CUHK.