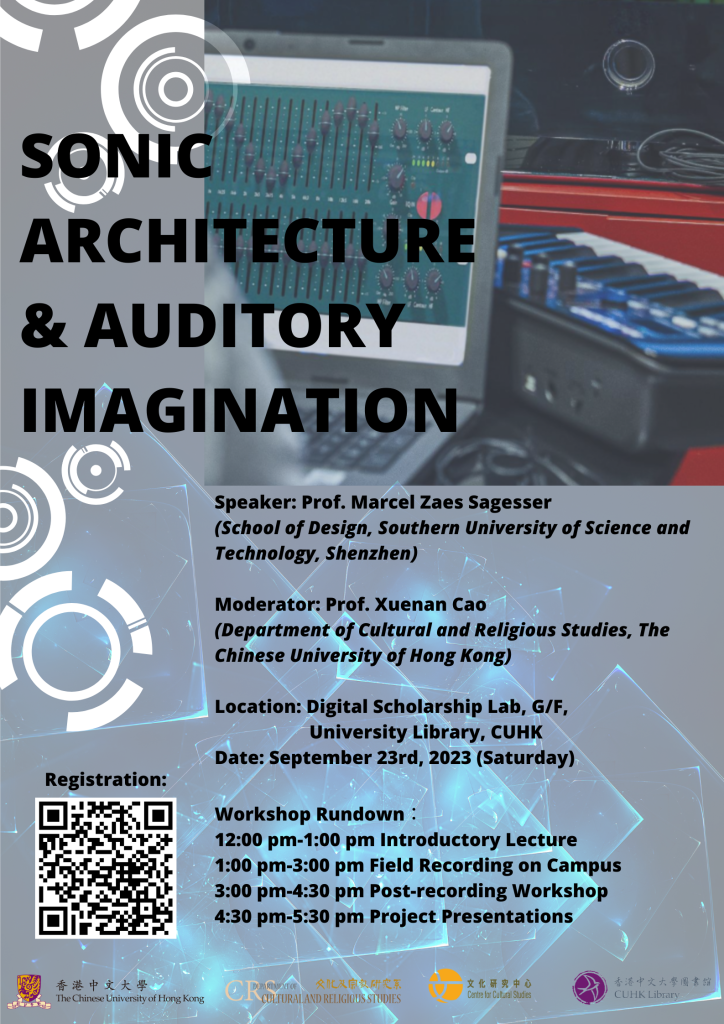 Details are as follows:
Sonic Architecture & Auditory Imagination
Speaker: Prof. Marcel Zaes Sagesser (School of Design, Southern University of Science and Technology, Shenzhen)
Moderator: Prof. Xuenan Cao (Department of Cultural and Religious Studies, The Chinese University of Hong Kong)
Venue: Digital Scholarship Lab, G/F, University Library, CUHK
Date: September 23rd, 2023 (Saturday)

Workshop Rundown:
12:00 pm-1:00 pm Introductory Lecture
1:00 pm–3:00 pm Field Recording on campus
3:00 pm–4:30 pm Post-recording workshop
4:30 pm–5:30 pm Project Presentations
*The field recording session (1:00 p.m.–5:30 p.m.) is limited in quota. Priority will be given to the students from the courses CURE4033 and CURE2003.
Registration link: https://cloud.itsc.cuhk.edu.hk/webform/view.php?id=13672289
Conducted in English. All are welcome.
Website: www.cuhk.edu.hk/crs/ccs
Enquiry: cuccs@cuhk.edu.hk
About the workshop:
Marcel Zaes Sagesser, a sound artist and Assistant Professor of Design at Southern University of Science and Technology, will lead us on a tour of soundscape discovery. In this interactive sound walk at CUHK, we will explore the art of listening through technology. The technological components include a workshop in sound recording and editing. Students in this workshop will acquire technical skills and perspectives on thinking about spatial issues through sound. Representative student works will be an integral part of the larger project Indie Sights. Through sound, we can reimagine how the city space around us is used.
Biography:
Marcel Zaes Sagesser, Assistant Professor of the School of Design at Southern University of Science and Technology, is an artist and researcher working at the intersection of digital media, sound art, technology, and human listening. He holds a PhD in Computer Music and Multimedia from Brown University, and MA degrees in media arts and in music composition from Bern Academy of the Arts and Zurich University of the Arts, respectively. Both his research and his artistic practice focus on the manifold ways in which humans craft their relationships with sounding media technologies. He is the co-director of the Sound Studies Group at SUSTech School of Design. His publications include research on sonic materiality, advanced online user interfaces, human-computer interaction; and his research has been published in venues such as the Designing Interactive Systems Conference, the Tangible Embedded Interactions conference, at the International Conference on Design, User Experience and Usability, or at the International Computer Music Conference. His artwork, mostly digital media installations and multimedia performances have been showcased at Shanghai JiaoTong University, at the UABB Hong Kong Shenzhen Bi-City Biennale of Urbanism and Architecture, at the Hong Kong Arts Center, the Shunde Food Museum, Sandford University, Columbia University, Rhode Island School of Design, University of Chicago, at Gallery Fridman New York, at Gray Area San Francisco, at the Biennial of Contemporary Arts Lisbon, at ZKM Center for Art and Media Karlsruhe, or at the House of Electronic Arts Basel. Marcel received a number of international prizes and acknowledgments for his artwork and his research, among others the Fulbright Fellowship by the United States of America.